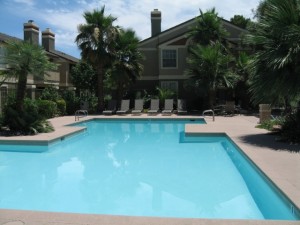 Most people come to Las Vegas to party. The rest of us actually need to live normal, healthy, productive lives. So, unless you're moving to Vegas to work on the Strip, and you'd like to live close to where you work, you should probably look outside of the tourist areas for your next apartment.
Henderson is the second largest city in Nevada and is just southeast of Las Vegas. It is known for being quieter, safer, and more family-friendly than the rest of the metro area. With over 250,000 residents, Henderson has a lot to offer someone like you or me. Here are a couple of great apartment complexes in Henderson that keep you within 10 miles of the big city:
Crossing at Green Valley – 2312 N Green Valley Parkway, $639 – 799
With beautiful, golf-course views and green trees everywhere, Crossing at Green Valley is a great complex. The floor plans range from 657 – 1,114 square feet and some units even include wood-burning fireplaces and full-size washers & dryers.
There's so much within walking distance of the property that you'll be able to walk everywhere and get a little exercise while you run errands. Within half a mile of your apartment, you'll have access to 7 restaurants, a Starbucks, a grocery store, 2 health clubs, a pharmacy, and an elementary school. Go just a little farther and you have parks, a post office, book stores, healthcare facilities, entertainment, bike shops, banks, and more.
Crystal Creek – 3001 Warm Springs Rd., $419 – 1,215
With a bright blue pool and Jacuzzi, the people at Crystal Creek are ready to show you around. These apartments are spacious and comfortable with floor plans ranging from 720 – 1,253 square feet for 1 – 3-bedroom units.
In close proximity to Crossing at Green Valley, many of the same local amenities are available here. My favorite restaurants in the area include Port of Subs, China Garden, Fire it Up Gourmet Pizza, and KA Japanese Bistro. There's a McDonald's nearby, too, but I'm not a huge fan.
Another great thing about the location of these two apartment complexes is that public transportation is available right around the corner. Help the environment and ride the bus to work in Las Vegas. Renting an apartment in one of these two complexes is a great idea. Schedule some time to go visit them in the next few days; you'll be glad you did.
How about you? Any luck finding apartments in Henderson? Comment below.
*** If you'd like some help finding an apartment in Las Vegas, I've got a whole staff of people standing by to help you for free. Call one of our apartment experts at 877-676-1767.
Or, click here: https://www.aptslasvegas.com/discover-las-vegas-apartments