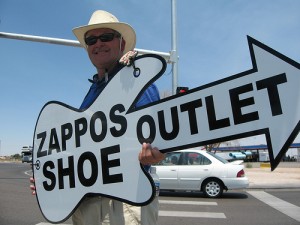 As a follow up to my article on Las Vegas apartments I found this and wanted to link to it.
Online shoe giant, Zappos, is moving their headquarters to Las Vegas and all their employees will rent Las Vegas apartments as a part of the plan to redevelop the area.
They are renovating city hall for $43 million and will soon be doing business from there. The city of Las Vegas will use the money to build a new city hall.
Zappos is excited to move to the area and plans to make downtown and Fremont Street East a place for music, food, affordable housing and other cultural amenities according to the folks at https://www.lasvegassun.com/news/2011/jun/09/zappos-would-pay-less-city-hall-building-under-ame/.
The company expects to bring 1,200 employees downtown with the move and the number expected to grow to 2,000.
How about you? Any luck finding Las Vegas apartments? Comment below.
*** If you'd like some help finding an apartment in Las Vegas, I've got a whole staff of people standing by to help you for free. Call one of our apartment experts at 877-676-1301.
Or, click here: https://www.aptslasvegas.com/discover-las-vegas-apartments
[Image credit: patrickkiteley]