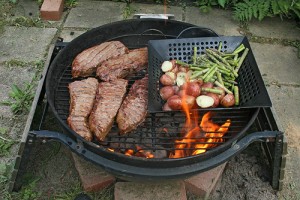 As a follow up to my article on Las Vegas rentals I found this and wanted to link to it.
When grilling this summer at Las Vegas rentals be sure to  heed the fire codes set forth by the fire marshal.
A Las Vegas man was recently burned in his back yard while grilling improperly and had to be taken to the hospital for emergency treatment.
The Clark county fire Department recommends checking with your Las Vegas rentals manager for specific rules for grilling safety. Using propane cylinders is generally considered the safest way to grill.
Outdoor cooking with portable grilling equipment is hazardous within 10 feet of any overhang, balcony or opening according to the folks at https://www.lvrj.com/view/area-briefing-124634818.html?ref=818.
How about you? Any luck finding Las Vegas rentals? Comment below.
*** If you'd like some help finding an apartment in Las Vegas, I've got a whole staff of people standing by to help you for free. Call one of our apartment experts at 877-676-1301.
Or, click here: https://www.aptslasvegas.com/discover-las-vegas-apartments
[Image credit: wwworks]