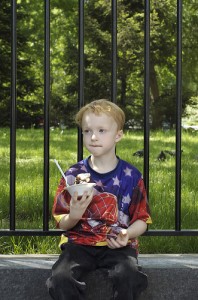 As a follow up to my article on apartment rentals in Las Vegas I found this and wanted to link to it.
Las Vegas Metro Police threw a block party and safety fair this weekend and they spent plenty of time making sure the kids were covered in stickers and full of ice cream.
"We really try to get out and not just stand on the sideline, but interact with the community," said Capt. Michael Dalley, who oversees Metro's Downtown Area Command.
The safety fair included opportunities to pet police dogs and horses and get inside SWAT and fire and rescue vehicles. A DJ was on hand with music and of course  lots of food including free hot dogs, chips and drinks donated by Los Compadres Supermarket.
The fair was a key part of that effort to try to improve the neighborhood, Dalley said.
"As a department, we have to bond with the community," he said. "I can put cops in this area and we have eyes here, but if we have the community watching, it compounds that."
The fair was planned to help residents feel good about the changes in the community, to meet police officers, and to get to know the neighbors according to https://www.lasvegassun.com/news/2011/may/21/neighbors-turn-out-downtown-metro-police-block-par/.
How about you? Any luck finding apartments in Las Vegas? Comment below.
*** If you'd like some help finding an apartment in Las Vegas, I've got a whole staff of people standing by to help you for free. Call one of our apartment experts at 877-676-1767.
Or, click here: https://www.aptslasvegas.com/discover-las-vegas-apartments
[Image credit: qwrrty]